All Pakistan U15 Squash Championship concluded, and PAF's Ibrahim Zeb Won the Champion 🏆 Trophy.
All Pakistan U-15 Squash Championships are organized by the Provincial Squash Association at the Qamar zaman Squash Complex of Peshawar Sports Complex. participated. The final match of Janiwale Under-15 was played between PAF's Ibrahim Zeb and Khyber Pakhtunkhwa's Obaidullah.
FINAL RESULTS
Ibrahim Zeb (PAF) WON (3-1) from Ubaid Ullah (KP) by (11-13 11-8 11-7 11-8). Match was played around 25 mint between both the players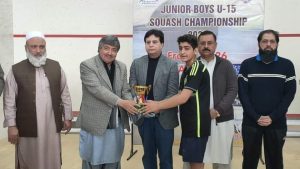 Muhammad Fawad (PAF) beat Abdullah Shah(KP) in the final and deciding match of the under-13 category (12-10 12-10 15-13)
In the final match of the under-11 category, Ahmed Ali Naz(PAF) beat Malik Muhammad (PAF) 3-0 and won the trophy by defeating 11-8 11-9 11-8.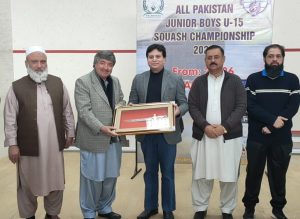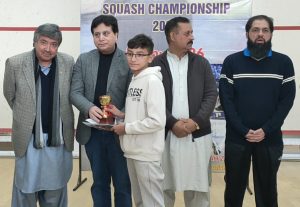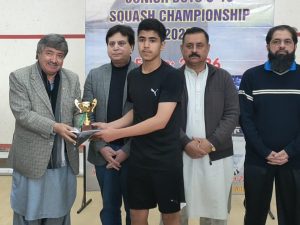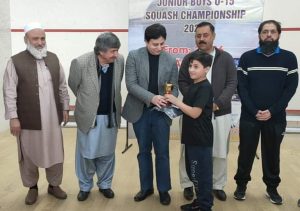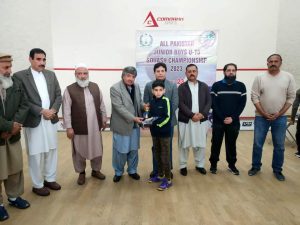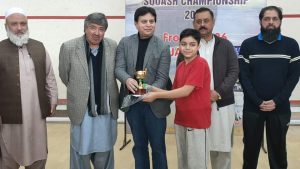 The chief guest of the final ceremony was Senior Vice President of Khyber Pakhtunkhwa Squash Association Ehsanullah Khan while former world champion of squash Qamar Zaman was also present, Associate Secretary KP SA Mr.Sajjad Khalil Finance Secretary Mr. Wazir Mohammad Chief organizer and Directorate Senior Coach Mr. Munawar Zaman.Mr. Waseem Mohammad, Cheiff Referee Mr. Adil Faqir Executive member KP SA Mr. Fazal Khalil squash Coches and others were also present on this occasion and held prominent positions The winning players were given trophies and cash prize.
ALL PAKISTAN BOY'S U-15 SQUASH CHAMPIONSHIPS HELD ON 23rd-26th JANUARY 2023 AT QAMAR ZAMAN SQUASH COMPLEX QAYYUM STADIUM PESHAWAR.