All Pakistan National U15 Boys Squash Championship
All Pakistan National U15 Boys Squash Championship got underway here at Qamar Zaman Squash Complex in Peshawar Sports Complex with more than 100 players taking part. Well-known industrialist Haji Asadullah was the special guest along with squash legend Qamar Zaman, Chief Organizer Munawar Zaman, Associate Secretary Sajjad Khalil, Finance Secretary Wazirzada Gul, referees and other personalities were also present.
Special guest and industrialist Haji Asadullah was introduced to the players. On this occasion, squash legend Qamar Zaman said while talking to the media that the best U15 players from all over the country are participating in the Championship and it is hoped that good players will emerge from these competitions.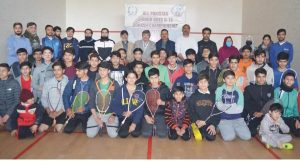 There is a lot of hope from the junior players, he said, adding, only the players from U7 to U15 have the ability to become champions, but they need to work day and night. He said PAF Academy is also good for the promotion of squash in the province.
He said, the players are provided with the best facilities by the PAF in that squash academy, while the players are also provided with good coaching and facilities in the Qamar Zaman Squash Complex. It is hoped that the junior players will win more honors for the country and the nation.