The Asian Junior Individual Squash Championship 2023 has been a spectacle of pure athleticism and grit, showcasing the immense talent of budding squash players from across the continent. Pakistan's representation in the tournament has been nothing short of extraordinary, as the nation secured an impressive array of gold, silver, and bronze medals. Join us as we delve into the journey of these exceptional athletes and their remarkable performances on the court.
Day 1: A Phenomenal Start
The championship roared to life on Day 1 with Team Pakistan delivering stellar performances across various age groups. Notable victories included Anas Ali Shah's triumphant battle against Tho Wai An (Malaysia) with a score of 3/1 (4-11, 11-8, 11-6, 11-3). Abdullah Nawaz and Abdullah Nadeem showcased their prowess with commanding wins in the UNDER 17 category. Ibrahim Zeb and Nauman Khan, in the UNDER 15 and UNDER 13 categories respectively, displayed sheer dominance by clinching victories in straight sets. Ahmad Khalil's swift victory solidified Pakistan's commanding presence on the court.
Day 2: Upholding Excellence
Day 2 brought forth a mix of challenges and triumphs for the Pakistani contingent. Anas Ali Shah put up a fierce fight but narrowly lost to Shaurya Bawai (India) in an intense five-set battle. Meanwhile, Abdullah Nawaz continued to shine, securing victory against Pillay (Malaysia) with a score of 3/1 (11-5, 11-8, 7-11, 11-8). Abdullah Nadeem faced a tough Malaysian opponent, though the competition was fierce. Ibrahim Zeb's dominance continued as he defeated Ethan Kwan (Singapore) in a convincing 3/0 win. Nauman Khan and Ahmad Khalil once again triumphed in their respective matches, proving their mettle on the court.
Day 3: Quarter-finals Clash
As the championship entered its quarter-finals stage, the intensity skyrocketed. Abdullah Nawaz's dramatic victory against Wong Wing Kuen (Hong Kong) marked a significant moment, as he secured a spot in the semi-finals after a grueling 3/2 encounter (11-2, 10-12, 8-11, 11-7, 12-10). Ibrahim Zeb faced a formidable opponent and ultimately lost to the top seed. Nauman Khan's flawless performance persisted, as he dominated Yelvannthan (Malaysia) with a triumphant 3/0 score (11-4, 11-6, 11-3). Ahmad Khalil showcased his skills by defeating Aryaman Singh (India) with a score of 3/1 (4-11, 11-8, 11-2, 11-4), cementing his place in the next round.
Day 4: Semi-finals Showdown
The penultimate day of the championship witnessed heart-pounding semi-final clashes. Abdullah Nawaz's unyielding determination was on full display as he secured the bronze medal in a tense 3/2 match against Low Wa Sern from Malaysia (3-11, 11-6, 6-11, 13-11, 7-11). Meanwhile, Nauman Khan continued his triumphant journey with a commanding 3/0 victory over Yuen Tsz Long from Hong Kong (11-2, 11-5, 11-6). Ahmad Khalil demonstrated his prowess as well, securing a spot in the finals with an impressive 3/0 win against Lokkesh (Malaysia) (11-2, 11-4, 11-9).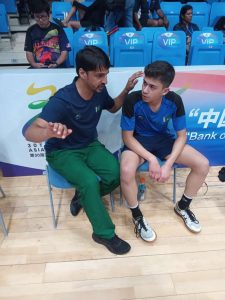 The Grand Finale Beckons
The grand finale awaits, as the UNDER 13 category prepares for a historic showdown. Nauman Khan and Ahmad Khalil, both exceptional players, will face off in a battle for the gold medal. The anticipation is palpable as fans eagerly await the clash of these rising stars on the squash court, a moment that promises to etch their names in the annals of sporting history.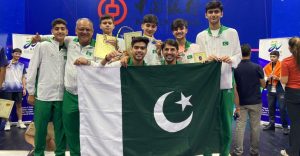 Conclusion
The Asian Junior Individual Squash Championship 2023 has been a testament to skill, dedication, and the spirit of competition. Pakistan's young squash players have showcased their exceptional abilities and secured their place on the podium with an impressive medal haul. As the championship draws to a close, the memories of hard-fought matches, inspiring victories, and exceptional displays of sportsmanship will endure, serving as a beacon of inspiration for future generations of squash enthusiasts in Pakistan and beyond.